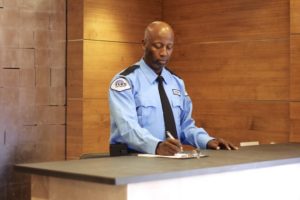 People make all types of resolutions to better themselves throughout the new year, but have you given any thought to improving your facility protection measures in 2020? Whether your property has faced significant security issues or you would merely like to avoid these problems in the first place, investing in security guards is an excellent way to protect your property. Here are some of the benefits of hiring uniformed security guards to protect your property in 2020.
Security Guards are an Excellent Crime Deterrent
Uniformed security guards serve many essential functions on properties of all types, but their ability to act as a crime deterrent is virtually unparalleled. While alarm systems, CCTV, and fences are popular methods of discouraging trespassing and theft, few things are as effective at deterring would-be criminals as uniformed security guards. Whether you decide to station a guard at your building's entrance, instruct your guards to go on patrols, or opt for a patrol vehicle, an in-person security presence is invaluable for any property.
Ensure Proper Detection, Response, and Reporting of Crimes
Another reason that security guards are a valuable investment is that they allow you to detect and respond to criminal activity in real-time. Rather than noticing vandalism or missing valuables after the fact, security guards will be on your property and able to detect possible crimes before they happen. Security guards from CES Security are well-trained and ready to monitor your property, respond to criminal activity, and report crimes to the appropriate authorities. Additionally, our professionals can report details about crimes and emergencies in a direct, concise way that is incredibly valuable when law enforcement and emergency personnel are involved.
Give Your Employees, Your Visitors, and Yourself Peace of Mind
An increased security presence on your property is one of the best gifts you can give yourself for the new year. Knowing that your facility is protected even when you are not there provides a sense of confidence and ease that cannot be bought. For your visitors and employees, the presence of uniformed security guards can allow them to feel safe and comfortable. Knowing that security professionals are on-site to handle any problems can make everyone on your property more at ease. You owe it to your employees, your visitors, and yourself to feel safe in 2020. Contact the experts at CES Security to learn more about our security guard services and other security solutions.
CES is Dedicated to Serving Our Community
Since opening in 1975, we have been committed to serving businesses in the District of Columbia, Virginia, and Maryland. Our values include proactive communication, honesty, reliability, and quality. We also believe in paying unparalleled attention to detail, no matter which service you require us to provide.
Our services include the following: professional security teams for permanent, temporary, emergency and rapid-response support; around-the-clock patrols and management attention; concierge and hospitality staffing; and a dedicated mobile patrol service with associated staffing. Contact us for a free, professional consultation today! Call 443-471-7000. Don't forget to follow us on social media through Facebook, Twitter, and LinkedIn!