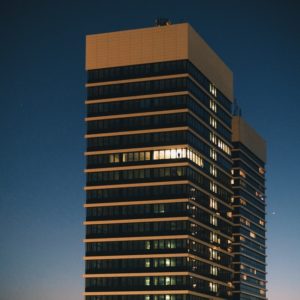 Is your building secure when you're not around? Criminals often strike at night to take advantage of the cover that darkness can provide, and fewer employees and visitors on site can make theft and vandalism much easier. Facility protection is crucial at all times, not just during business hours. Security guards and mobile patrols can help business owners and facility managers keep their properties safe from a slew of common security threats, day or night. The experts at CES Security are committed to providing our clients with peace of mind and protection 24/7. Here are some reasons to consider boosting your facility protection measures after hours.
Facility Protection is a 24-Hour Concern
You might be sleeping or relaxing after business hours, but criminals and disasters can strike at any time. Fires, broken pipes, and on-site medical emergencies require a prompt response, and security guards can help address these issues and raise the alarm at any time of night. Guards can also help deter, detect, and defend against criminals that would seek to attack your property in its most vulnerable moments. Your office may not be open all of the time, but facility protection matters always.
Workers, Visitors, and Assets are More Vulnerable at Night
Criminals are likely to strike at night when they feel that properties are at their most vulnerable. A lack of foot traffic, on-site employees, light, and security can embolden criminals and encourage them to vandalize, burglarize, or trespass on your property. In the worst cases, night shift employees and visitors can become innocent bystanders in the face of property damage and violent crime. Give your workers and visitors the protection they deserve by stationing security guards on the premises at all hours.
Unsupervised Employees, Vendors, and Contractors can Complicate Facility Protection Efforts
Do you have vending machines, supply deliveries, or other reasons for recurring after-hours visits from vendors and contractors? Giving these vendors the keys to your facility can streamline deliveries and maintenance, but it can also present significant security risks. Third-party vendors may not be as vigilant as you or your employees, and forgetting to lock a door just once can allow thieves and vandals to enter unhindered. Business owners can minimize the risks presented by careless third-party vendors by hiring security guards to keep watch and patrol their facilities.
CES is Dedicated to Serving Our Community
Since opening in 1975, we have been committed to serving businesses in the District of Columbia, Maryland, and Virginia. Our values include proactive communication, honesty, reliability, and quality. We also believe in paying unparalleled attention to detail, no matter which service you require us to provide.
Our services include the following: professional security teams for permanent, temporary, emergency and rapid-response support; around-the-clock patrols and management attention; concierge and hospitality staffing; and a dedicated mobile patrol service with associated staffing. Contact us for a free, professional consultation today! Call 443-471-7000. Don't forget to follow us on social media through Facebook, Twitter, and LinkedIn!