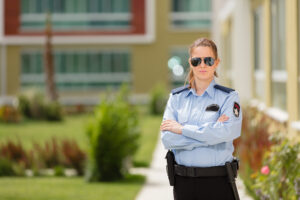 It is common to see uniformed security officers walking large malls, but that is one of only a few places where visible security is offered. Having security officers that can be easily identified and approached can be a huge benefit to any organization that hosts areas where large numbers of people congregate.
Deter Crime
Having visible security means that potential criminals can see that someone is available and watching. An area with visible security is less likely to be targeted due to the fact that a trained and uniformed security officer is on the scene, making escape far more difficult for a potential criminal. Cameras fail to provide this level of protection because the threat of immediate response does not exist. 
Instill a Feeling of Security
It is a common misconception that having visible security will cause people to feel panicked or threatened. In reality, having visible security can help put guests and patrons at ease. Knowing that there are trained security officers nearby lets them know that their safety is being taken seriously. Also, if they can see security officers, they can quickly and easily access them if needed. This is useful for all situations where security officers can be an invaluable asset, such as medical emergencies or handling cases where children are separated from their guardians.
Faster Response Time
Visible security means having security officers available and on the ground where the guests and patrons are. This is a major security benefit because it means the security officers are seeing activity happen in front of them. This allows them to respond immediately because they are present in the area if an incident occurs.
CES is Dedicated to Serving Our Community
Since opening in 1975, we have been committed to serving businesses in the District of Columbia, Maryland, and Virginia. Our values include proactive communication, honesty, reliability, and quality. We also believe in paying unparalleled attention to detail, no matter which service you require us to provide.
Our services include the following: professional security teams for permanent, temporary, emergency, and rapid-response support; around-the-clock patrols and management attention; concierge and hospitality staffing; and a dedicated mobile patrol service with associated staffing. Contact us for a free, professional consultation today! Call 443-471-7000. Don't forget to follow us on social media through Facebook, Twitter, and LinkedIn!