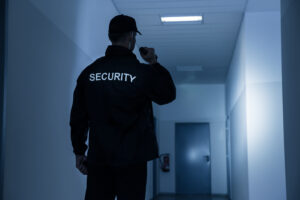 24-hour security may seem like an unnecessary expense, but it's an important feature in the preservation of any business. A security guard on the ground has some distinct advantages over automated security systems.
Immediate Response Time
No matter what the emergency or when it happens, 24-hour security ensures that a trained professional is on the scene and ready to respond. Automated security systems require extra response time, not allowing them to mitigate any initial damage. The longer response time gives criminals a chance to get away, or unexpected fires to spread.
Not Just Nights
24-hour security doesn't just mean hiring a night guard. Make sure your business is protected at all times, including weekends and holidays. Emergencies don't take a day off, so it's important to keep your business protected 24 hours a day during all 365 days of the year. You can rest easy knowing your business is protected in any situation.
Deterrence
The best kind of emergency is the one that's avoided. 24-hour security is always there to respond to any problem at any time, but one of their most important functions is stopping an incident from occurring in the first place. Whether this is deterring crime or monitoring the premises for safety hazards, 24-hour security protects your business by stopping emergencies in their tracks.
CES is Dedicated to Serving Our Community
Since opening in 1975, we have been committed to serving businesses in the District of Columbia, Maryland, and Virginia. Our values include proactive communication, honesty, reliability, and quality. We also believe in paying unparalleled attention to detail, no matter which service you require us to provide.
Our services include the following: professional security teams for permanent, temporary, emergency and rapid-response support; around-the-clock patrols and management attention; concierge and hospitality staffing; and a dedicated mobile patrol service with associated staffing. Contact us for a free, professional consultation today! Call 443-471-7000. Don't forget to follow us on social media through Facebook, Twitter, and LinkedIn!