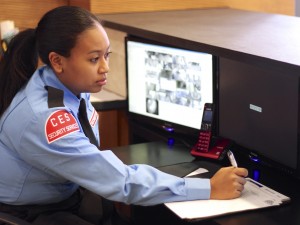 Safety and security  should always be a priority in any commercial office space. One of the best ways to keep a space secure is to employ security personnel. They are arguably the best visual deterrents for criminal activity. If you want to keep your office safe and secure, keep reading and discover some of the top benefits of having a security guard in your office.
Prevents Employee Theft
There are thousands of cases of reported employee theft every year. Many businesses are under the assumption that their trustworthy and hardworking employees would never steal from them. Hopefully, this is the case for your company. However, you should always be careful! The presence of a security guard in the office should help to deter employees from stealing items within the office. This includes items like computer equipment and expensive office supplies. Many employees feel entitled to items or take things because of ease of access. However, a security guard will make theft increasingly more difficult.
Any Office Could Be A Target
It is important to realize that any building could be targeted by criminals. It is foolish to think that your office is safe without utilizing some security measures. Buildings can be broken into, and criminals can find their way into your office space. You should never assume that your office is entirely safe from criminal activity. Employing a security team is one of the best security precautions you can take.
Sense Of Security
An unarmed security guard presence in your office space will help many of your employees to feel safe and secure. Your team can feel well protected from any external threat beyond your building, as well as any internal threats. A Security presence will also allow you to make sure that your employees can safely enter the building, work, and safely exit the building each day. This will help to ensure that everyone on your team feels well protected and safe throughout the workday.
CES is Dedicated to Serving Our Community
Since opening in 1975, we have been committed to serving businesses in the District of Columbia, Virginia, and Maryland. Our values include proactive communication, honesty, reliability, and quality. We also believe in paying unparalleled attention to detail, no matter which service you require us to provide.
Our services include the following: Professional security teams for permanent, temporary, emergency and rapid-response support; around-the-clock patrols and management attention; concierge and hospitality staffing; and a dedicated mobile patrol service with associated staffing. Contact us for a free, professional consultation today! Call 443-471-7000.  Don't forget to follow us on Social Media through Facebook, Twitter, Google+, and LinkedIn!