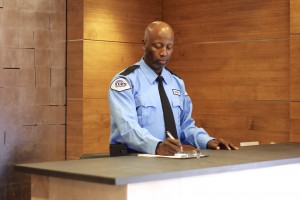 Safety and security should always be a priority of any commercial facility. Employees, customers, and guests should be provided with protection at all times. One of the best ways to enhance the security of your premises is to invest in an unarmed security team. Keep reading and discover a few of the top benefits of using unarmed security guards in your facility.
Provides Sense Of Comfort and Safety
A business will struggle to find success if its customers and employees do not feel at ease. Unarmed security guards provide people with a heightened sense of security. It can be frightening to see that security personnel with weapons patrol a commercial facility. It gives the impression that the location is unsafe, which will, in turn, make many people feel less comfortable. This is especially the case in crowded areas that have a lot of foot traffic. In addition, this can reflect poorly on a business's image. However, this can be avoided if you employ unarmed licensed security guards.
Less Risk
There will always be risk involved when an individual is holding a weapon. Even if an individual has extensive training holding and operating a weapon, doing so still presents dangers. The argument can be made that in many cases it is not worth the additional risks.
Affordability
In addition to security needs, the cost will be another major determining factor when choosing a security team for your business. Generally speaking, unarmed security guards are more affordable than armed guards. In many cases, you can be provided with the same degree of security by choosing unarmed guards for your business. If your facility is not located in a high-risk environment, you can receive the same level of protection from criminal activity like vandalism and burglary.
CES is Dedicated to Serving Our Community
Since opening in 1975, we have been committed to serving businesses in the District of Columbia, Virginia, and Maryland. Our values include proactive communication, honesty, reliability, and quality. We also believe in paying unparalleled attention to detail, no matter which service you require us to provide.
Our services include the following: Professional security teams for permanent, temporary, emergency and rapid-response support; around-the-clock patrols and management attention; concierge and hospitality staffing; and a dedicated mobile patrol service with associated staffing. Contact us for a free, professional consultation today! Call 443-471-7000.  Don't forget to follow us on Social Media through Facebook, Twitter, Google+, and LinkedIn!