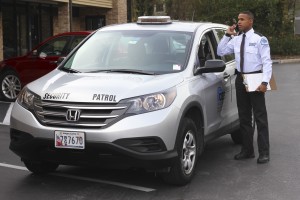 If you are managing a business, the safety of your staff and facility should be your top priority. While proactive security is crucial for keeping your team safe throughout the year, a direct threat requires a more careful response along with heightened safety measures to ensure that everyone in your building is safe. One of the best steps to protect your team is to enlist the help of trained Security Officers to protect your facility. As you prepare a security plan for your business, consider the many ways in which an increased security presence may protect your employees from harm in the event of a threat.
Trust Security Officers Who Will Proactively Monitor Your Facility for Signs of Danger
A threat to your business requires protective preparation beyond a simple response. With a team of highly trained security guards to protect your business, you can trust that these professionals are also monitoring your premises for any signs of danger. This professional approach to protecting your business is to your property's advantage because it can allow you to deter trouble before it starts.
Display a Professional Security Guard Presence at Various Entrances of Your Building
Despite any threat that may come to your business, the presence of a professional security guard or team of security guards is crucial to show that you are prepared for anything at your facility. Your business is well-prepared with professional security personnel  and can help to deter danger on the premise due to any potential threats .
Develop a Security Plan for Your Building
In addition to the presence of a professional security officer at each entrance of your building, it is also crucial to have a security plan for your business. This plan will allow everyone in your building to stay organized, as well as keep everyone as safe as possible in the event of an emergency.  Work with your security staff to coordinate a plan that will allow everyone to secure their offices, block entryways, or evacuate the building safely so that your business is prepared for an emergency situation.