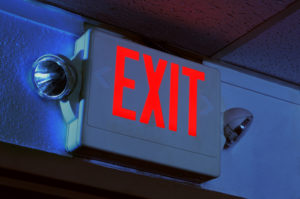 An evacuation plan is a crucial safety measure for any building or property. With a proper plan in place, it is more likely that everyone in the building can exit the property safely in the event of an emergency. Particularly for commercial properties, a plan is essential for the ability to organize an evacuation of a mass number of people in a large facility, with consideration to multiple exits, stairways, and areas to gather safely outside of the building. If you are currently managing a commercial site, consider the many reasons why an evacuation plan is a must-have for your property.
You are Prepared for Any Emergency with a Plan in Place
A plan allows you to prepare for any emergency situation in your commercial facility in an organized and timely fashion. With the right preparations and trained security professionals in place, you can organize a safe exit and the proper security protocol for any situation. Stay ahead of any unforeseen emergency with the right steps in place that work to keep everyone safe as they exit your property.
You help Ensuring a Safe Exit for Everyone from Your Building
By having an evacuation plan in place for your commercial property, your employees and visitors will be able to exit the building safely and minimize the risk of injury. Consider the use of stairs, first-floor windows, and identified exits as additional safety measures for your property. Having these measures in place will help everyone in your building to exit the building safely without hurting themselves, each other, or causing further damage to property in the process.
You are Prepared with Security Professionals for Assistance
Emergency situations involving large amounts of people can be hectic, overwhelming, and intimidating. With an evacuation plan and trained security professionals on-site to help, you can have the assistance that you need in an emergency situation. Security guards can assist you with crowd control, violent circumstances, and hazards that may otherwise prevent your building occupants from exiting the property safely.
CES is Dedicated to Serving Our Community
Since opening in 1975, we have been committed to serving businesses in the District of Columbia, Virginia, and Maryland. Our values include proactive communication, honesty, reliability, and quality. We also believe in paying unparalleled attention to detail, no matter which service you require us to provide.
Our services include the following: Professional security teams for permanent, temporary, emergency and rapid-response support; around-the-clock patrols and management attention; concierge and hospitality staffing; and a dedicated mobile patrol service with associated staffing. Contact us for a free, professional consultation today! Call 443-471-7000.  Don't forget to follow us on Social Media through Facebook, Twitter, Google+, and LinkedIn!