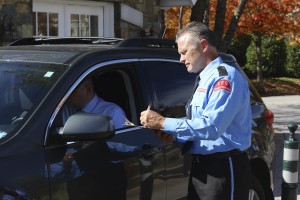 While it is great to have an excellent trained security team monitoring your facilities, a business owner also plays a necessary role in the protection of their employees. The winter season often brings a fair amount of snow to the Mid-Atlantic region. It is important to realize that a security guards job is significantly more difficult when they are working through unfavorable weather conditions. A snowstorm will limit a person's visibility and present a variety of other challenges. Keep reading and discover a few tips for assisting your security personnel during inclement winter weather.
Remind Them To Wear Proper Clothing
The weather can change in a moments notice. For that reason, it is important to always plan for the worst. It is a good idea to encourage your security guards to wear plenty of warm clothing when they are patrolling outside during the cold months of the year. Winter temperatures tend to plummet at night, and high winds can make the outdoors even less hospitable. With all that being said, make sure that your security personnel are wearing protective clothing like gloves and hats when they working through inclement weather.
Have Quality Outdoor Lighting
As stated earlier, snowfall and harsh weather can limit a person's visibility. It can make it extremely difficult for security personnel to do their job. This is especially the case during the evening hours. To help your security personnel, have outdoor lighting along walkways and the entry points of your facility.
Encourage Them To Stay Protected from the Elements
Freezing temperatures can be dangerous to the human body. In addition to causing health problems, it can decrease alertness. It is important that security personnel working outside take breaks throughout their shift to warmer areas as needed.
CES is Dedicated to Serving Our Community
Since opening in 1975, we have been committed to serving businesses in the District of Columbia, Virginia, and Maryland. Our values include proactive communication, honesty, reliability, and quality. We also believe in paying unparalleled attention to detail, no matter which service you require us to provide.
Our services include the following: Professional security teams for permanent, temporary, emergency and rapid-response support; around-the-clock patrols and management attention; concierge and hospitality staffing; and a dedicated mobile patrol service with associated staffing. Contact us for a free, professional consultation today! Call 443-471-7000.  Don't forget to follow us on Social Media through Facebook, Twitter, Google+, and LinkedIn!