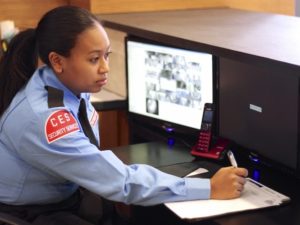 If you have decided to hire uniformed security guards this year, you have already taken an excellent first step in protecting your Baltimore property. However, hiring qualified security guards is not always as simple as it may seem. Finding the right licensed and uniformed security guards for your business can require more legwork than you might think, which is why utilizing a security services company like CES Security is an excellent choice.
The Benefits of Using a Security Services Company
There are a few ways to go about hiring security personnel for your business, but few are as effective and easy as working with a security guard services company. Unlike hiring your own security officers, working with a security guard services company allows you to leave hiring, training, and managing your security staff up to the experts. Security guards from CES Security go through rigorous in-classroom training, and our experienced team manages the HR needs of your security guards so that you can focus on running your business.
What Makes Uniformed Security Guards Different?
Uniformed security guards from CES Security represent a significant security presence, and this will serve as a visible crime deterrent for your property. Unlike employees or front desk attendants (which some businesses use in place of guards in an attempt to minimize criminal activity), uniformed security guards show that your facility is protected by trained and licensed security professionals. Security guards have training and experience that can prove invaluable in emergency situations, and uniformed guards are clearly in a position of authority when emergencies or crimes occur.
Protect Any Kind of Baltimore Property
Whether you run an apartment building, an office, a construction site, or a warehouse, physical security is essential. Properties of all kinds have unique security needs, and the expert team at CES Security has provided Baltimore businesses with specialized security guard services since 1975. Our uniformed security guards can be stationed at entrances or execute patrols on foot or by vehicle. Each client receives our team's ongoing dedication and attention to detail, and our security services are tailored to fit your facility's needs. If you are looking to improve security at your Baltimore property, contact the experts at CES Security.
CES is Dedicated to Serving Our Community
Since opening in 1975, we have been committed to serving businesses in the District of Columbia, Virginia, and Maryland. Our values include proactive communication, honesty, reliability, and quality. We also believe in paying unparalleled attention to detail, no matter which service you require us to provide.
Our services include the following: professional security teams for permanent, temporary, emergency and rapid-response support; around-the-clock patrols and management attention; concierge and hospitality staffing; and a dedicated mobile patrol service with associated staffing. Contact us for a free, professional consultation today! Call 443-471-7000. Don't forget to follow us on social media through Facebook, Twitter, and LinkedIn!