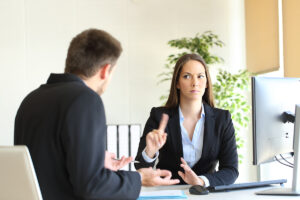 One of the less enjoyable aspects of taking a management position is the unfortunate scenario where you need to engage in employee termination. This is a very tense situation for both the manager performing the termination as well as the employee being terminated. Since these situations are so delicate, it's best to have a plan and prepare accordingly to make sure things go as smoothly as possible.
Have a Plan
Having a plan in place for those times when you have to terminate an employee is always a good idea. Ultimately, you're informing someone of a major negative upheaval in their life, and that can go any number of ways. While most people will likely be reasonable, even if they're frustrated, upset, or even angry—there is always the risk of someone becoming confrontational and aggressive during their termination. The risk doesn't necessarily end when they walk out the door, either. Any time a business is the victim of a major theft, arson, or another type of attack, the first suspects are typically disgruntled employees and former employees that may have felt wrong by the company, their boss, or their co-workers.
What kind of plans should you have in place in the event of employee termination?
Restrict access to sensitive information and areas of the facility.

If the employee being terminated has access to a uniform, keys, access cards/codes, or even biological verification—restrict their access immediately. You can request physical items be returned but be prepared to change verification procedures quickly if you are not given these items immediately upon termination. If they have access to your facility, it is possible that they will lash out and potentially cause severe damage.
Inform your security personnel of the termination.

Your security team needs to be in the know when you have to terminate an employee due to the possible volatile situation that could unfold. They should have a plan or instructions on how to help in these situations, and one of them should either be present during the termination process or close enough to intervene if things go south.
Tighten security for a period of time.

A former employee hoping to get even isn't likely to wait too long to do so. For this reason, it's always a good idea to tighten your security for a period of time to ensure that they can't do too much damage and will be caught in the act. While integrated security systems are helpful, having at least one security guard on the premises will ensure an immediate response by a trusted witness who can turn the perpetrator in to the authorities.
CES is Dedicated to Serving Our Community
Since opening in 1975, we have been committed to serving businesses in the District of Columbia, Maryland, and Virginia. Our values include proactive communication, honesty, reliability, and quality. We also believe in paying unparalleled attention to detail, no matter which service you require us to provide.
Our services include the following: professional security teams for permanent, temporary, emergency, and rapid-response support; around-the-clock patrols and management attention; concierge and hospitality staffing; and a dedicated mobile patrol service with associated staffing. Contact us for a free professional consultation today! Call 443-471-7000. Don't forget to follow us on social media through Facebook, Twitter, and LinkedIn!