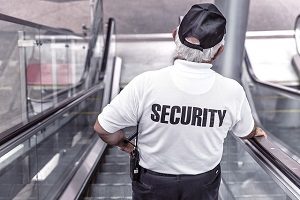 The presence of a uniformed security guard will help keep your business safe and secure for you, your employees, and your visitors. Here are a few significant reasons why security guard services are worth the investment for your business.
Helps to Deter Various Types Of Crime
A security guard presence at your location you will help to deter many types of criminal activity, such as shoplifting, vandalism, and employee theft. Criminals are far less likely to target businesses that have security personnel on-site. Should the start of any suspicious activity take place on your premises, your security professional will be there to address the issue right away.
Provides Business Owner Peace Of Mind
It is a nice feeling knowing that you have a highly trained individual at your place of business securing your property and helping to keep everyone out of harm's way. By investing in a security guard service like CES Security, you will be able to focus your attention on other important areas of managing your business. This will also help your employees to feel more productive throughout the day, as they will be able to focus on work more easily.
Monitoring the Security Cameras
Wouldn't it be nice to be able to put a stop to crime before it starts? A security guard can keep watch on your security cameras to monitor the activity in your location. With a security guard there to proactively monitor the cameras, you can easily identify and address suspicious persons, activity, or patterns taking place on your property.
Can Provide Escorts During the Evening Hours
Many people feel uneasy walking to their vehicle at night. A security guard can escort customers and employees to their vehicles, so they can safely enter their cars. This step will also show your employees that you value their safety.
Employees Appreciate It
Generally, people appreciate added security measures from their employers. The addition of security guard services could be a great way to boost morale of your employees and make them feel safe in the workplace.
CES is Dedicated to Serving Our Community
Since opening in 1975, we have been committed to serving businesses in the District of Columbia, Virginia, and Maryland. Our values include proactive communication, honesty, reliability, and quality. We also believe in paying unparalleled attention to detail, no matter which service you require us to provide.
Our services include the following: Professional security teams for permanent, temporary, emergency and rapid-response support; around-the-clock patrols and management attention; concierge and hospitality staffing; and a dedicated mobile patrol service with associated staffing. Contact us for a free, professional consultation today! Call 443-471-7000.  Don't forget to follow us on Social Media through Facebook, Twitter, Google+, and LinkedIn!