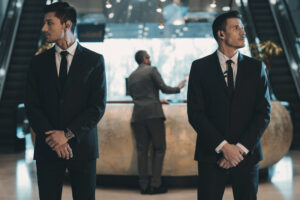 If your business is in need of some extra security, you might have a hard time deciding between hiring an internal security officer or an external security company. The fact is, hiring an external security company comes with many benefits that will enhance the efficiency and safety of your business.
Licensed and Trained
An external security company is already outfitted with licensed security professionals that are trained to deal with whatever situation threatens your business's safety and security. The company takes care of making sure their employees are always up-to-date on their licensing and training requirements, so even as training protocols evolve your security officers will always know the best way to handle the situation.
Reliable
Hiring one or more internal security personnel can actually become a bigger problem for your business. Internal employees need days off, sick time, and vacation days. That means you'd have to hire enough security personnel to cover any gaps and have them on standby in case the scheduled guard can't come in for any reason. A security company removes this headache by providing reliable, constant security for your business.
No Hiring
If you want internal security, you have to manage the hiring process by interviewing dozens of candidates and hiring several to cover the needs of your business. This is a long, tedious, and expensive process on top of having to bring on several more employees. Hiring a security company negates the need for this and ensures your business always has exceptional security personnel ready to protect you, staff, visitors, assets, and your facility.
CES is Dedicated to Serving Our Community
Since opening in 1975, we have been committed to serving businesses in the District of Columbia, Maryland, and Virginia. Our values include proactive communication, honesty, reliability, and quality. We also believe in paying unparalleled attention to detail, no matter which service you require us to provide.
Our services include the following: professional security teams for permanent, temporary, emergency and rapid-response support; around-the-clock patrols and management attention; concierge and hospitality staffing; and a dedicated mobile patrol service with associated staffing. Contact us for a free, professional consultation today! Call 443-471-7000. Don't forget to follow us on social media through Facebook, Twitter, and LinkedIn!