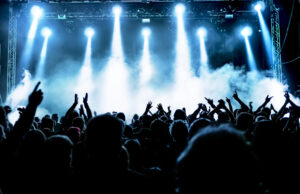 Large events have become abnormal due to the global pandemic. However, as mask mandates are lifted and the world begins to open up again, large events will also make a comeback. Having proper event security will help to ensure the safety of all guests, from ticket holders to VIPs, and keep your event running smoothly.
Know Your Venue
Knowing your venue inside and out is essential to event security. It's important to know how porous your venue is, which is a term used to describe how many potential entrances a venue has that are not official entrances. Any back doors, side doors, windows, or even fire escapes need to be noted for your security team so those areas can be monitored. Knowing your venue also helps to know your capacity, and allows you to outline an emergency escape plan. If you and your security team know exactly what to do in an emergency before one occurs, you can act as quickly as possible to usher your attendees to safety.
Screen Your Visitors
Nobody enjoys having their belongings rummaged through, but screening is a necessary evil when it comes to event security. Any potential attendees should know ahead of time that there will be some level of screening, and what items will be considered inadmissible. Having control over what enters your venue will help you control potential threats to your guests, and it sends the message that security is being taken seriously.
Coordinate With Security
One of the most important aspects of event security is your security team. Setting up a mid to large-scale event is a lot of work, so it might be tempting to hire a security team and expect them to manage on their own. Don't do this. Communicate with your security team by going over the venue with them, making action plans for emergency scenarios, and discussing any specific worries you may have. During the event, make sure you have an open line of communication with your security team so that you are always apprised of what is going on.
CES is Dedicated to Serving Our Community
Since opening in 1975, we have been committed to serving businesses in the District of Columbia, Maryland, and Virginia. Our values include proactive communication, honesty, reliability, and quality. We also believe in paying unparalleled attention to detail, no matter which service you require us to provide.
Our services include the following: professional security teams for permanent, temporary, emergency and rapid-response support; around-the-clock patrols and management attention; concierge and hospitality staffing; and a dedicated mobile patrol service with associated staffing. Contact us for a free, professional consultation today! Call 443-471-7000. Don't forget to follow us on social media through Facebook, Twitter, and LinkedIn!